If you are not new to Power Point you will notice the templates that the program have. While there some amazing templates there sometimes you need something…more!
Wonder how to create your own Power Point template? Keep reading!
A Power Point template is no different than a Power Point presentation or file. The only difference is that you can reuse the design by simply applying this template to your presentation.
No more need to copy/paste every single slide. By inserting a new slide you will inherit the design you previously prepared. How neat! right?
To create a Power Point template you will need:
Microsoft Power Point installed on your computer. Preferably the latest version. You can download a free trial here.
Images or drawings you intend to use as background.
Access to a computer. Have you seen the new Microsoft surface?
To create the Power Point template just follow these simple steps.
Step 1: Create a new document (blank)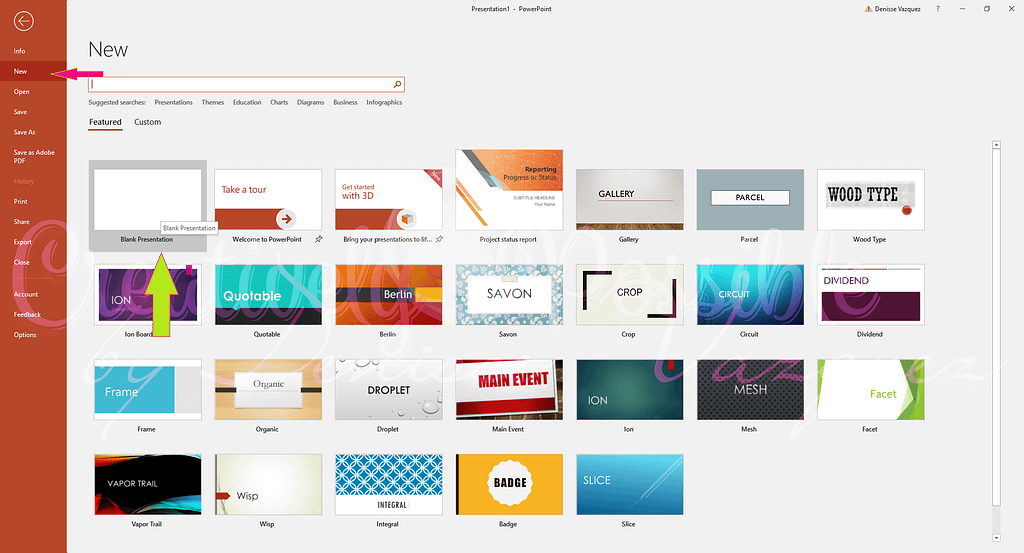 Start by opening Microsoft Power Point and creating a new document. From the templates, select (double click) the blank template.
Step 2: Choose and download your background
You can download backgrounds from different sites or you can create your own. Pixabay is a free resource where you can download free images.
Once you've downloaded the image or created your own save it to your pictures folder for easy access. Remember you can download or create .jpeg or .png files.
Step 3: Open the Slide Master
Click on the View tab and select Slide Master. Slide Master is where you can configure the Power Point template (.ppt).
Step 4: Format the background to include your background image/color
Click on background style, then click on Format Background .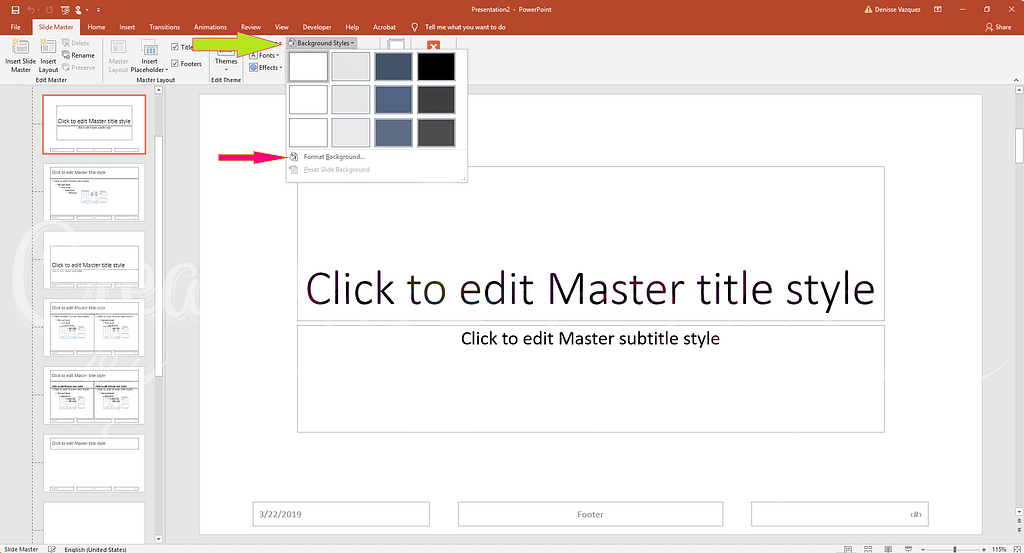 Click on Fill and then Picture or texture fill. Now click on File to choose the JPG or PNG background that you previously downloaded.
You can choose a different background for each slide or choose a different background for the Title slide.
To choose a background for all slides click on the large slide and apply your background image. It will automatically place the image on all slides.
To choose a different background for the title slide click on the title slide and apply your background image. It will automatically place the image just on the slide you've selected.
Step 5: Change the default title and content area
You can change the content area to better fit your image. You can also choose a different font or color.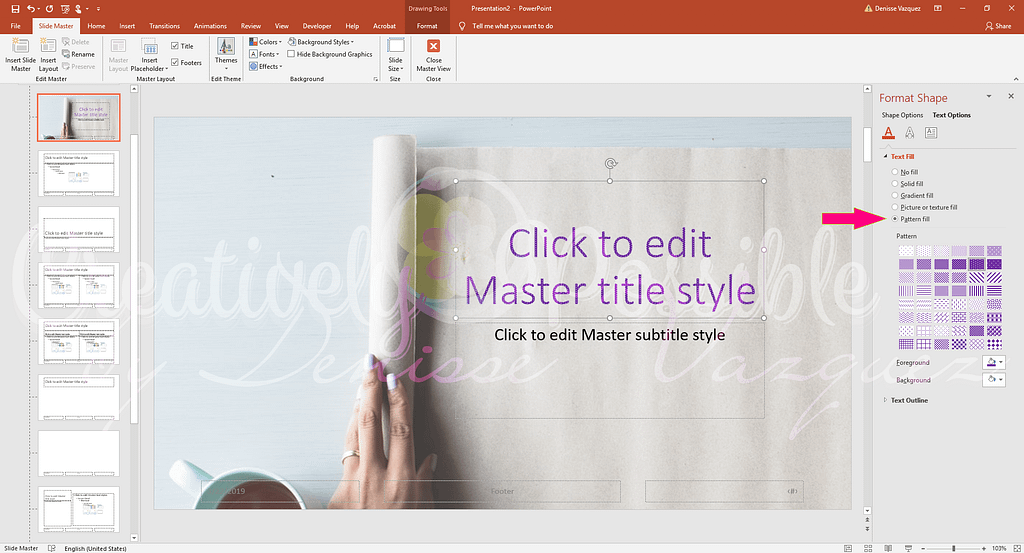 You can apply texture and color to the font of the title.
To change the font style for the whole document click on fonts and select a font combination from the list or create your own.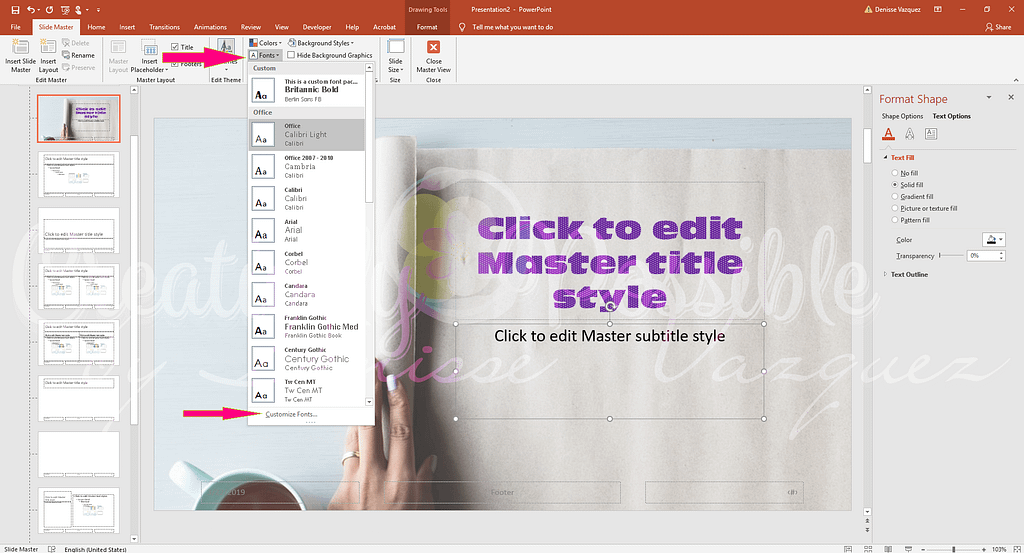 Step 6: Adjust the content area
To be sure your text will be legible, adjust or move your content area to fit the image (if you have an image similar to the one below).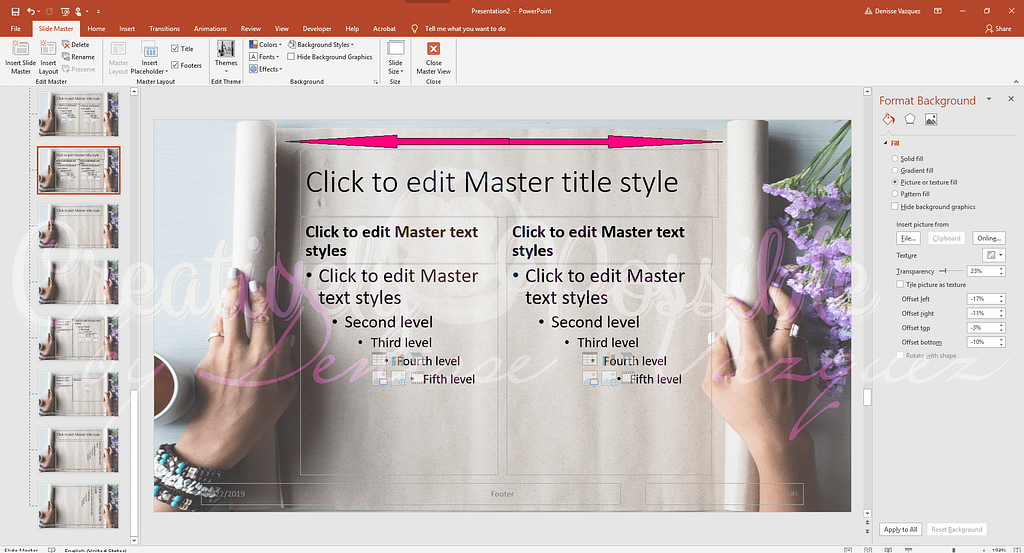 Step 7: Add elements and template parts
You can add images and clip-arts to your master slides. Therefore they will appear as part of your template.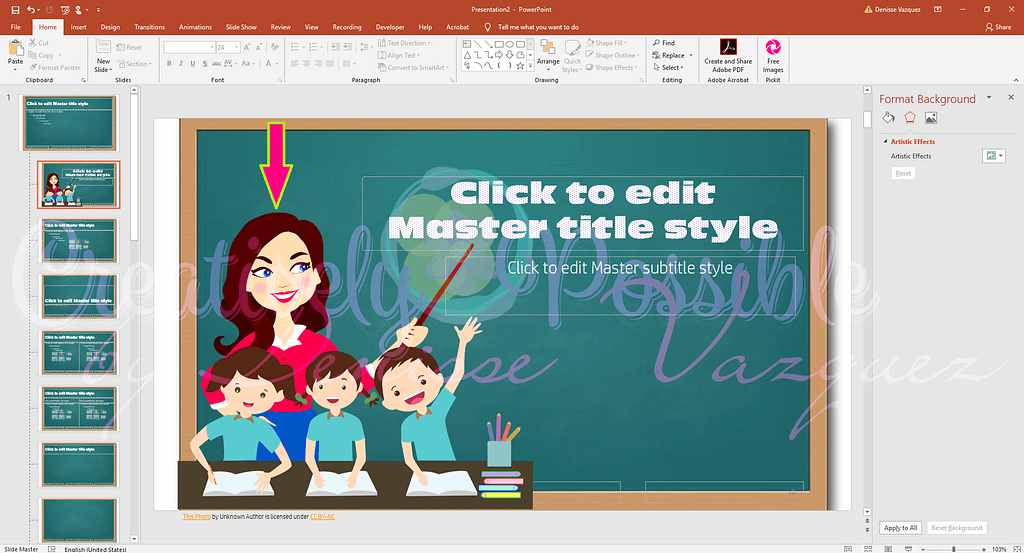 Step 8: Be creative!
Adjust the images to be different. Don't be afraid of your crazy ideas!
Always remember that if you want a certain image to appear on all slides, make the changes in the biggest slide. Power Point will automatically replicate the image on the other slides.
Step 9: Save as a theme
Once you're satisfied with your slides. Save them as a theme! Click on themes and on save current theme. Give it a name.
You can apply this theme in the future to any slide by just clicking on themes and selecting your custom themes.
Step 9: Go back to "Normal view" and save as template
Click on the red X to close the Slide Master view and return to the "normal view"
Save your document as a PowerPoint template. Click File>Save as>
And select from the drop down PPOT or PowerPoint template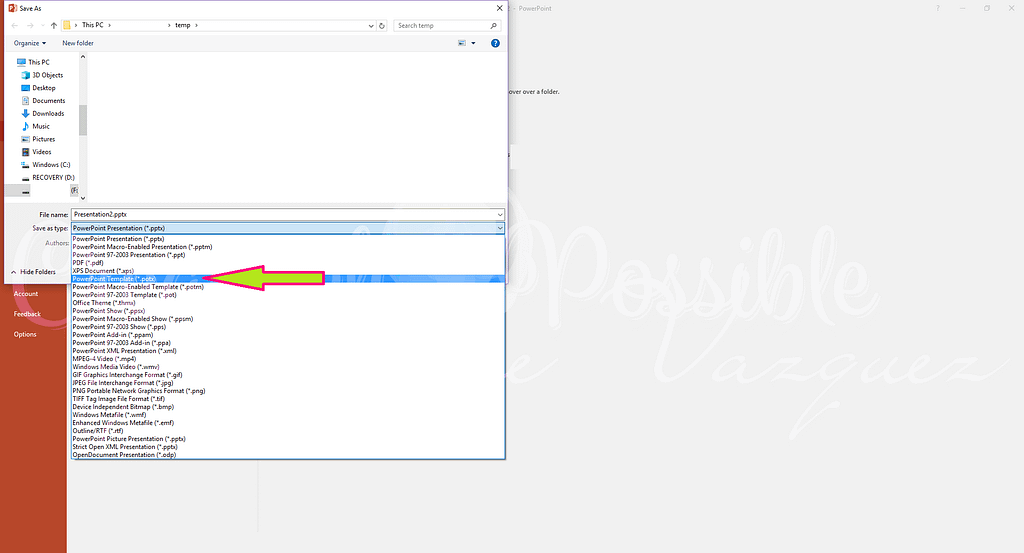 Make sure that when you save the templates you're saving it to the "Custom Office templates" folder and click save.
Now is really easy to access your template anytime you open Power Point.
Click on New document>Custom> and select your template.
Click on create to create a document using your template. Note that this will not overwrite your template file. It will create a whole new document.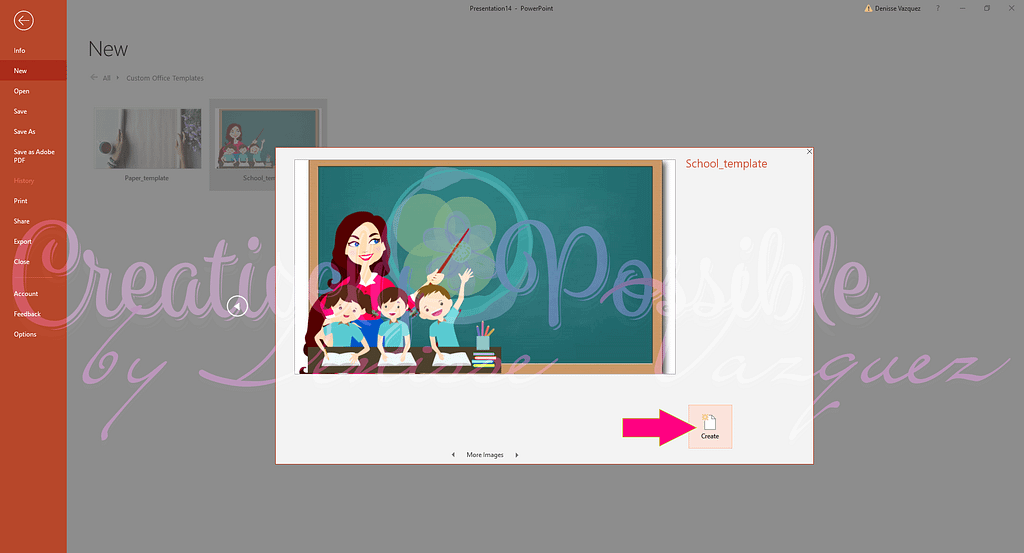 And that's it! Isn't it AMAZING!! Your very own template!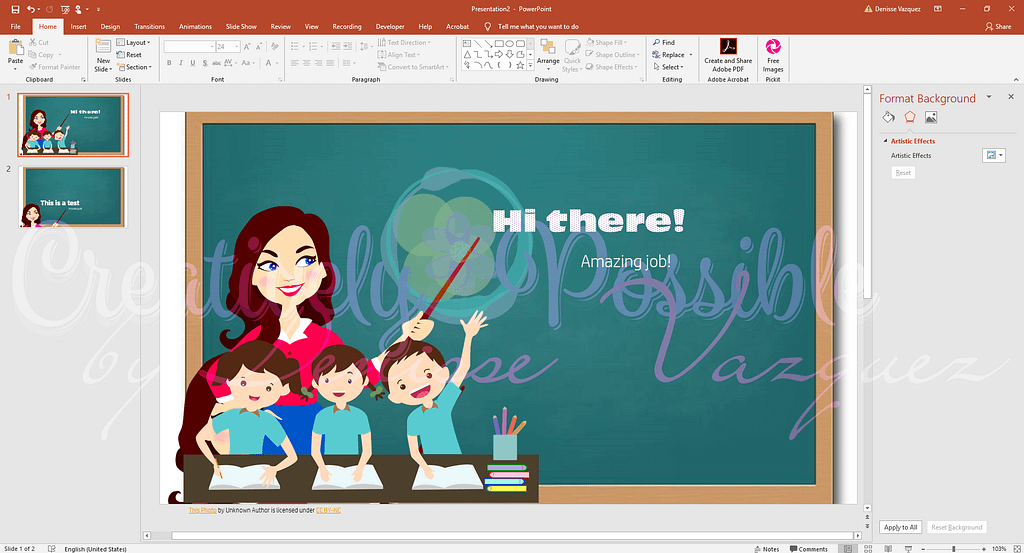 Have you tried creating your Power Point template? How was it? Share your results with me on a comment below. Or on social media using #creativelypossiblelearningcenter
Like it? Love it? Be sure to subscribe to Creatively Possible Classes and events.
See you next time!