Back to School is almost here. And, while we are enjoying our summer vacations (which we promised will be spent outdoors) I could not resist hanging by the phone and looking at Amazon for 10 amazing items to use in the classroom.
Amazon?… Yes! Why not?
Amazon ships to home and you can try and hide the package out of sight until classes start. In addition, it has the advantage that with only a click and a few questions your item will be on your way.
Of course, not only did I search for amazing and good looking items, but I've also prepared some premium add-ons for the items which will take out the "guessing part" on where to use them.
As always, I am an Amazon Affiliate then, if you decide to purchase any of these items on my list by clicking the link provided I will receive a small commission on it, at no cost to you! Win-Win.
Let me know what you think of the list and don't forget to share it with your friends!
-Denisse-
This badge holder and lanyard is your perfect ally when assigning classroom roles.
You can easily personalize each badge with the printables I've created: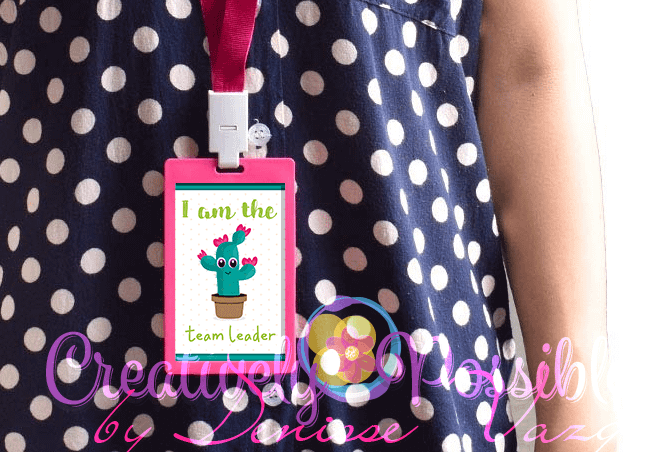 Don't be discouraged, if you're not into having a pink classroom you'll be glad to know that it comes in different colors!
For example, Dark Blue, Light Blue, White, Green, Orange, Rose Red (pink), and Red colors. Perfect for matching your classroom theme!
With this in mind, here is a great Amazon found classroom decoration that would last the whole year and that is not only good looking but functional too:
2 Kassa Large Chalkboard Contact Paper Roll – 17.3" x 78" (6.5 Feet) – 5 Chalks Included – Chalk Board Paint Alternative Wallpaper – Adhesive Blackboard Wall Decal Vinyl – Black Chalkboard Stickers
This contact paper will let you have a chalkboard anywhere in your room…even on your student's desks! And, if you've followed me long enough you'll remember a blog I've written about 5 Amazing ideas for exam days where I gave you the idea of leaving a message on the student's desks to let them know how much you appreciate them. This will come in very handy.
Another great use for this is to let students write their calculations in it. Being able to use it for Math and other classes will be greatly appreciated by your students…and…..
…don't worry, Amazon also has sets of chalk and erasers you can get for your students and keep in your classroom.
Or you can get away with these dry-erase pockets.
These pockets will let you choose any of the printables I offer or any other worksheet you have and transform it into a reusable resource.
Printed in copy paper your students will never have to write directly on the paper if you want to use it just for practice, and it will leave you with papers you can reuse again and again.
Don't overthink it! you can use the search box on this website to find free and paid printables. If you have yet to find what you're looking for, send me a message! I'll be ready to have it for you.
And you may be asking, what about those printables if I want to share it with the class or upload them to my computer?
While this may seem at first like an expensive buy, (me being a teacher more than $30.00 means half of my paycheck) it will definitely come in handy and easy to use.
It is a document camera or scanner. It helps you scan any paper into the computer or even to your presentation. This will be an easy way to guide your students and have them follow you.
It also has video recording & real-time projecting by means that you can present it to your class and send the video to any student that was not present that day. Amazon definitely thought of this when recommending this for the classroom.
Another thing, you don't have to be on the board to make annotations, you can make annotations directly on the paper and it will show them in real-time. Win-win.
And for those students that 10 years from now will tell the world that the school never taught them life skills like going to the bank or write a check, Amazon definitely handles it so well with this amazing manipulative for your classroom.
Math teachers can now teach accounting principles with this
Being a Math teacher I cannot help myself but love this! An incredible lesson that can be thaught with like skills for them to keep forever. Believe me that when they're older they'll be glad to know their teacher thought of everything!
Well if you like this list, please share it in the comments below and don't forget to share it with your friends or on social media.
If you end up purchasing any of these items, let me know how you've used it in the classroom. I love learning from you and your new ideas!